𝗦𝗢𝗨𝗟 𝗦𝗨𝗧𝗨𝗥𝗘 is an exciting new solo project by South African guitarist and songwriter Vince van der Walt (HeadFury). This collaborative project features performances by some of South Africa's finest vocal talent from past and present.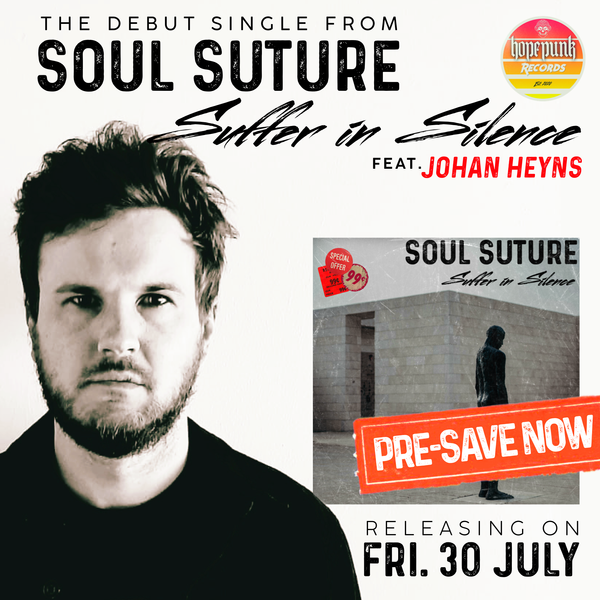 SUFFER IN SILENCE released 𝗙𝗥𝗜𝗗𝗔𝗬 𝟯𝟬 𝗝𝗨𝗟𝗬, and is the first single from the artist's forthcoming debut EP (The Art of Escape / The Escape of Art) slated for release in September via HopePunk Records. 
This epic progressive rock masterpiece features Johan Heyns (Far From Who We Are) on vocals and draws influences from bands such as Tool and Karnivool. The song is perfectly complimented by the next-level drumming of Kyle Williams Music (June in Paradise, Far From Who We Are)  
The upcoming EP will also feature vocal collaborations from Fred Honig (Inersha), Gideon Kretschmer (HeadFury, Wonderwolf) and Clemens van der Baan (Subrosa) and promises to be a really interesting and unique modern rock record combining the diverse musical influences and styles of the different collaborators with Vince's signature alternative rock guitar grooves.  
Masterfully recorded, mixed and mastered by at The Laundry Room, South Africa  
Follow Soul Suture on Instagram @soul.suture