Who we are and what we do...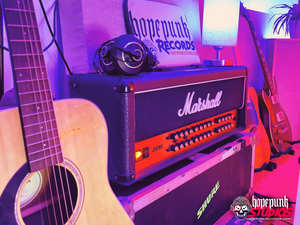 Welcome to HopePunk Records

- a boutique record label, recording and production studio based in the Channel Islands, UK. working with SELECT artists globally.  

Founded by musician and producer Gideon Kretschmer, we have over 25 years' experience in the industry. 
OUR PERSPECTIVE
With over 100,000 songs being released daily, today's music industry can feel like a broken place where the magical art of creativity has been devalued to the point of negative value (i.e. PR pay to play) for the vast majority of artists.  
The democratisation of recording and distribution means no barriers to entry, which is great, but it's also driven classic supply/demand economics where there are way too many songs and content vying for the limited time (and interest) that most people have to discover and invest in new artists.  
We can go on about this for ages, but let's just say it can be a real motivation (and creativity) killer for emerging artists trying to connect their music with a real audience... 
SO, WHAT'S THE ANSWER ?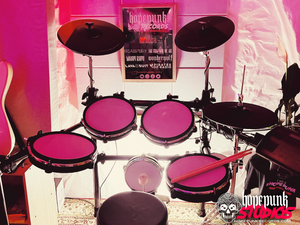 For us it's side-stepping all this poison and negativity by keeping our focus on the art of creation, driven by a deep love and belief in the power of music as the driving force in our lives. For us, music (and creativity) is life. Screw the other noise. 
With HopePunk Records we're trying to build a safe space that nurtures and showcases the creativity of our artists, all in our own little world. We aim to live the HopePunk ethos of "weaponized optimism" through our creative process. Yes we still release our creations through all the normal channels (it's a great way to share art), but for us the measure of success is in the creative process itself and our own experience of the end-results, rather than how many streams or views it receives. 
That said, we also believe that if the art is worthy, the response will follow. The classic line from Field of Dreams kinda captures our belief - "If you build it, they will come"..And if they don't, that's also ok.. as long as you had fun building it. 
We're working on building up an authentic brand and collaborative network of creatives, underpinned by a growing collection of super high quality, kick-ass music and other creative art that pushes boundaries and goes wherever our creative energy takes us, no limits applied.  
Apart from our range of label support services (from recording to distribution, publishing, licensing, marketing & brand building) we also offer production and studio services beyond the label construct, supporting musicians across the creative value chain. 
In today's challenging market, we're actively exploring new channels and ways to connect our music with the right audience, and ultimately find fair monetisation opportunities that our artists deserve.
Find out more about what we do below and get in touch...