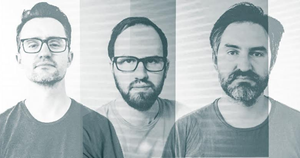 Far From Who We Are

 (FFWWA) brings the heavy and the heart more than most bands. A truly world-class outfit that continue to push boundaries, they've sculpted their own unique sound, forged in the fires of alternative rock, progressive metal, emo and metal-core. The results are mind-blowing..

Far From Who We Are is a 3-piece melodic hard rock band from Johannesburg, South Africa, consisting of brothers Johan Heyns (Guitar, Vocals, Synths), Maarten Heyns (Bass) and Kyle Williams (Drums). 

Formed back in 2015, the band released their self-titled debut in 2017, and have since continued to shape their signature sound through a number of well-received single releases (including "This is War" (2018), "Hollow", "Monster in Me" and "Chaos" (2019), "Hurricane" , "Living a Lie" and "Rise" (2020)). 

Far From Who We Are continue to push the boundaries of alternative rock and metal, fusing a mix of progressive rock, modern metal and electro sounds to create their unique sound that is big on emotion and haunting, yet super catchy, melodies, underpinned by brutal riffs and beats. 
heavy. progressive. emotive.
They're well known for their energetic and immersive live shows, and the band have shared the stage with the big names in the SA rock scene (incl.The Narrow, Facing The Gallows, Red Helen, Truth And Its Burden, Man As Machine to name a few).  
They write, record, mix and master everything themselves in their own studio (The Laundry Room), and the result is a recording quality that is truly world-class, which is just what their songs deserve.  
"Rise", released Nov 2020, was the first single from their latest EP and their first release via HopePunk Records, and was also recently included in Mongrel Records' FANGS Volume 3, the latest compilation of the best of the African Rock & Metal underground.
2021 saw their long-awaited EP "Sleep in Shadows" released in July 2021 receiving wide-spread media and radio coverage in the UK, Germany, Brazil, South Africa and the US, including a 5/5 review by the UK's Emerging Rock Bands magazine and placement on some leading Spotify curated playlists.
This was quickly followed up by 2 smashing singles released in Nov 2021, showcasing the bands' range - "Invisible Visitor" (again playlisted by Spotify) and a beautiful remake of their 2017 classic "Poor Little Victim (Acoustic)".
And they keep on bringing the heat in 2022 - "Bend To Your Will" released in March and the haunting rework of "Easy Way Out" followed in July, again pushing the boundaries of their sound to new exciting heights.
And that's not all - their massive new self-titled 5 track EP released in November, and End of Dec 2022 will bring another epic single "Destroy", stay tuned for more info on this one! 
Recently nominated for a South African Metal Music Award, the band is set for big things in the years to come.
If you have not yet experienced their music, get on it NOW!
Hell yeah, legendary Alt-metal kings FFWWA'S back with a brand new collection of sonic treats - LISTEN TO THE NEW EP NOW 
PHOTOS 
Click to download original High-Res files