Our curated 𝗛𝗢𝗣𝗘𝗣𝗨𝗡𝗞 𝗥𝗢𝗖𝗞𝗦 playlists have been updated on Spotify, Apple Music, Deezer and Youtube
🇬🇬 This time we've also added a few awesome #guernsey #channelislands bands that have impressed us 
CLICK HERE FOR QUICK LINKS TO EACH PLAYLIST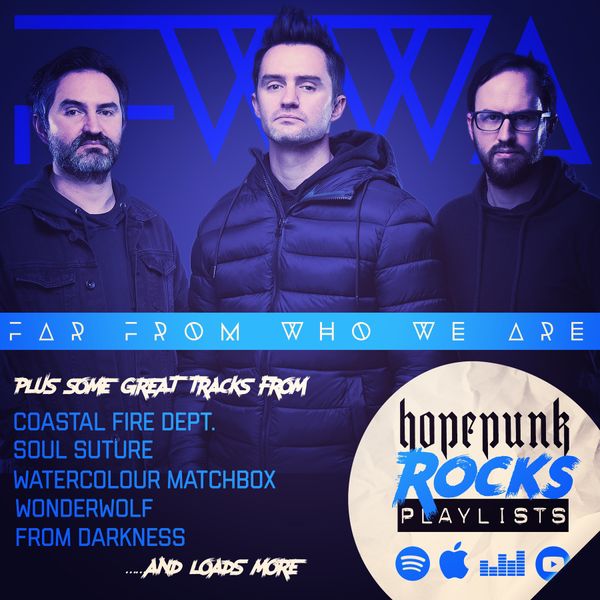 𝗖𝗢𝗩𝗘𝗥 - @farfromwhoweare 🇿🇦 
If you haven't yet checked out this alternative rock trio's critically acclaimed new EP "Sleep in Shadows", your missing out - check out opener "D.O.M" + closer "Polluted" to experience their awesome sound and range. 
𝗣𝗟𝗨𝗦, 𝗮𝘄𝗲𝘀𝗼𝗺𝗲 𝘁𝗿𝗮𝗰𝗸𝘀 𝗳𝗿𝗼𝗺: 
@coastalfiredept 🇬🇬 
These local grunge rocking legends have such a fresh throwback sound, with really good songs that instantly connects. We've added their latest single "Loner" (video coming this Friday) plus recent release "Gun" feat. an epic vocal collab with @shinfogsy from metal/hardcore rockers @granitewolfband (their debut album is releasing soon, we can't wait). Check out their awesome label @lislet_records for more. 
@soul.suture 🇿🇦 
"Suffer in Silence" is the debut single from @headfury guitarist @vincevanderwalt, feat. Johan Heyns from Far From Who We Are on vocals. It's the perfect preview of his forthcoming EP featuring more exciting vocal collabs. 
@watercolourmatchbox 🇬🇬 
We'd heard about these alternative rockers from a few angles since moving over to Guernsey so just had to check them out, and wow, what a find. Check out "The Reckoning" and "Out of your mind" from 2019's Pathways. Great vocals and production. Reminds a bit of @YoungGunsuk, which is just a good thing. 
@wonderwolf 🇿🇦🇬🇬 
Check out latest single and melodic emo anthem "The Distance", again feat. the awesome Johan Heyns, but this time on guitar + production. 
@fromdarknessofficial 🇬🇬 
This metalcore act have some brutal riffage with killer metal vocals that awakens the inner beast. They've got a cool mix of modern metalcore and more classic metal sounds. Check out "Scream" + "Lovely" from their eponymous 2021 album🤘🤘 
📪 Want to send your music to our earholes - go to hopepunkrecords.com/playlists