OUT NOW! 
Soul Suture is back with a very special new collaboration featuring legendary South African rock royalty David Beretta Owens (Lithium, N8ive, The DeadBeats) - "INVINCIBLE" redefines the standard of world-class melodic alternative rock, and proves once again why Dave is one of THE best rock vocalists in the business.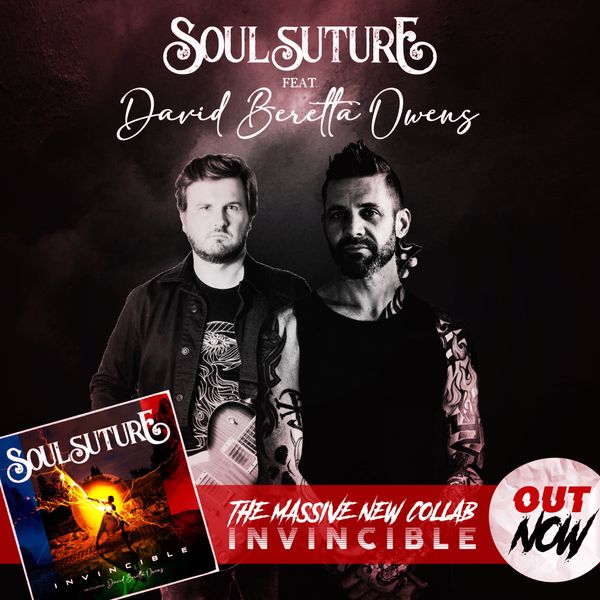 Guitarist Vince van der Walt (the man behind Soul Suture) again delivers his signature mix of infectious riffs and massive rock grooves, and continues his unique collaborative approach - one that saw it's birth with 2021's acclaimed debut EP "The Art of Escape / The Escape of Art" - each new song features an exciting collaboration with a different vocalist, and "INVINCIBLE" does not disappoint. 
The melodies and lyrics that Dave brings to the mix here is something truly special - get ready for intense growls of pent-up rage releasing into massive emotional hooks, masterfully balanced with moments of vulnerable introspection. One listen is all that is needed to get you hooked and begging for more.
Lyrically Dave digs deep, delivering an inspiring ode to the power of the human spirit, and how we can all find the strength to fight and overcome our inner demons ("I rise above this monster on the hill, 'cause I am invincible") 
There is a really unique alchemy between these two creative forces, and for any fans of the legendary Lithium - this song is not to be missed!
Mixed and mastered by Johan Heyns at The Laundry Room, South Africa
Available now on all platforms via HopePunk Records